Recovery for snowboarders, hooking up the Hits! with OVRIDE.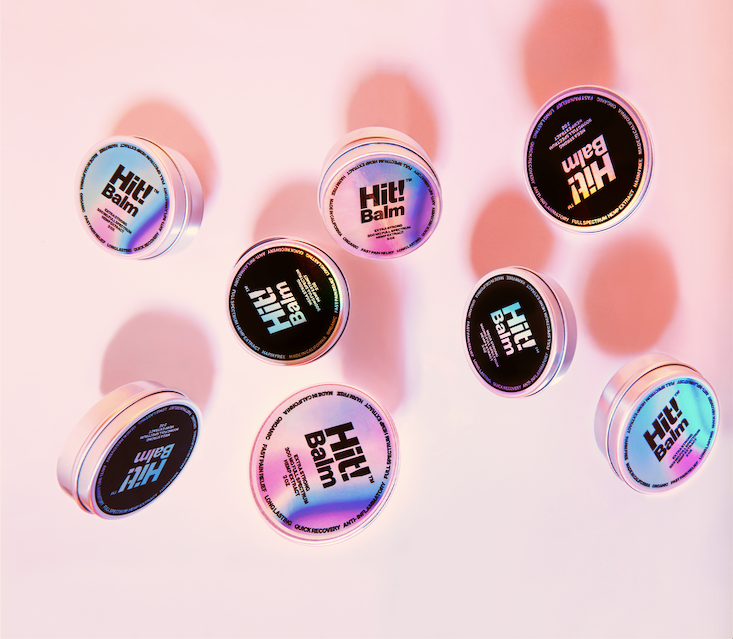 Hit Balm was planning to be out with us on our adventures this spring, but since we've had to take a pause from getting together, they're hooking it up with a big discount.
While we'd all rather be working out in the beautiful outdoors, it's more important than ever to keep up with physical fitness, health, and wellness at home. We've taken an active effort in finding products, services, and alternative means to help hook up the OvR fam while we adjust to the current reality. Our friends at Hit! Balm was planning to be out with us on our adventures this spring, but since we've had to take a pause from getting together, they're hooking it up with a big discount.
To aid your personal wellness regime for you and your family, as we adapt to our new routines, we've partnered with our friends at Hit! CBD to offer you 30% off your entire order of Hit! CBD topicals and oils at Hitbalm.com.
If you'd been out on the Burton Snow Bus this past season, you may have come across samples of these products. Gifts for friends attending our StoweKD Burton Weekends at Stowe included some Hit! Balm to help get them through what traditionally can be a wild weekend.
Recovery of the body is an important process, especially when you're looking to get back out there day after day. Whether it be lapping the chairs, taking a hike or getting in an at-home work out, your body needs a break after getting after it.
Hit! Drops tinctures are 100% plant-based CBD-rich, cinnamon oil. Hit! Drops help to take the edge off the everyday worries that can hijack our attention, affect sleep, and have a negative effect on our health. Hit! Balm topical pain relief is a 100% plant-based CBD-rich, balm with an entourage medicinal herbs. Hit! Balm provides relief from muscle and joint, aches and pains and speeds up your recovery time.
FAST RECOVERY, STRONG PERFORMANCE
Hit! formulas are developed to help you recover fast and get back in the game. Hit! co-founder and doctor of Traditional Medicine, Lawrence Miller L.Ac. is a cancer survivor and an experienced surfer, ultra-marathon runner, and ex-triathlete and has a very personal and applicable understanding of the needs of professional and recreational athletes who love high-intensity sports. Hit! Balm is a topical CBD application to help you recover fast from aches, pains, bruising and strains common to those putting their bodies through the stress of all-out effort. Hit! Balm Drops, oils from hemp, provide relief from stress and anxiety to help you relax and recover. Combined they are the ideal recovery companions for active people managing any kind of pain or stress.
WHAT MAKES IT SPECIAL?
100% Plant-based, Hit medicine (Dit da jow) has been used by martial artists for centuries to give relief from pain and inflammation. Each herb has a deep history in traditional medicine and helps balance your Qi (energy flow). This potent entourage of medicinal herbs has been mixed with Colorado full spectrum hemp extract rich in CBD. Qi or Chi in traditional medicine and philosophy is the vital life force that flows through the body and is regulated by the stimulus, such as Hit medicine and acupuncture. Hit! Products relieve pain, reduce inflammation, relieve anxiety to help you recover fast.
Dit Da Jow or 'Hit Medicine' 'Fall or Hit Wine'. Jow recipes consist of several dozen herbs, steeped in alcohol from weeks to years. Research has found that the longer a Jow soaks, the more anti-inflammatory compounds are found. There are thousands of recipes in history, most are considered to be "secret formulas" passed down through the oral and written history of Traditional Medicine and martial arts. Dit Da Jow is primarily used by martial artists to aid the healing of the injuries suffered in training, though doctors of Traditional Medicine have found them useful in the clinic as well. The healing function of Dit Da Jow is to unblock Qi stagnation and 'blood stasis'. Through traumatic injury, QI is blocked in the meridians causing pain and swelling, and blood circulation is impeded. Hit! Balm proprietary Hit Medicine opens up this blockage, allowing the Qi to flow freely and encouraging the injury to heal.
HEMP?… CBD?… HOW IT WORKS
We understand there is a lot of miseducation out on Hemp and CBD. Since we started offering CBD products to the OvR community, we've been asked, "Does it get you high?". NO… these are serious recovery products with pure, natural results. "Is this legal?" YES… not only is it legal, but CBD products are also fast becoming common for a number of health remedies. Happy to report, most of our people get it, but for those that have questions…
Before hemp balms, lotions and salves came to market, Traditional medical practitioners had been using Dit Da Jow for centuries. While hemp extract on its own is a powerful and effective analgesic and anti-inflammatory compound, this proprietary cohort of Dit Da Jow herbs is what makes Hit! products so amazing. Frankly, Hit Balm without hemp extract would still be effective, and with hemp it is supercharged. Every time you use Hit Balm, know that not only are you benefitting from the highest quality USA grown all-natural ingredients; there are also over 2000 years of herbal wisdom packed into every tin. It's why Hit! Balm has Qi.
CBD interacts with our bodies in a variety of ways. One of the main ways they impact us is by mimicking and augmenting the effects of the compounds in our bodies called "endogenous cannabinoids" – so named because of their similarity to the compounds found in the cannabis plant. These "endocannabinoids" are part of a regulatory system called the "endocannabinoid system". The discovery of the endocannabinoid system has significantly advanced our understanding of health and disease. It has major implications for nearly every area of medical science and helps to explain how and why CBD is such a versatile compound.
Stay Healthy, Be Well, Keep Active and Take a Hit!
«OvR – The #1 Source on East Coast Snowboard
https://ovrride.com/hooking-up-the-hits-hit-balm-from-home/
---
---